---
| | |
| --- | --- |
| | My faith in Jesus Christ is the most important part of my life. I walk with and serve Him in my daily life. I worship Him with my family at First Baptist Church (FBC) of New Castle, Pennsylvania, USA. While in Korea for the 2000-2001 School year Sandra and I attended Seoul Union Church . |
---
Here is a slide show from our visit to the Phipps Conservatory and Botanical Gardens. Let me know if you like it.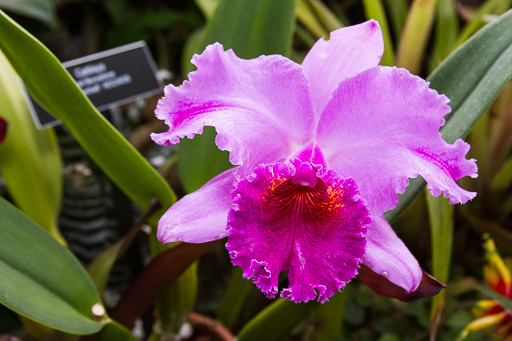 Pictures from Phipps Conservatory and Botanical Gardens 2015/04/06
---
In 2015 we have started 2 new businesses. I started a computer consulting business called Webster's Computer Solutions of New Castle. Sandra started an Etsy.com site to sell her pottery. We cannot keep it all and many have asked about buying some. Below is a mini - etsy site showing pottery she has for sale.
---
This is the beginning of several links to pictures taken during our recent visit to Hawaii, Ohau and The Big Island. The first is some of the stills taken on the Beach at Waialea Bay and underwater on the reefs in the bay. Click picture to see show.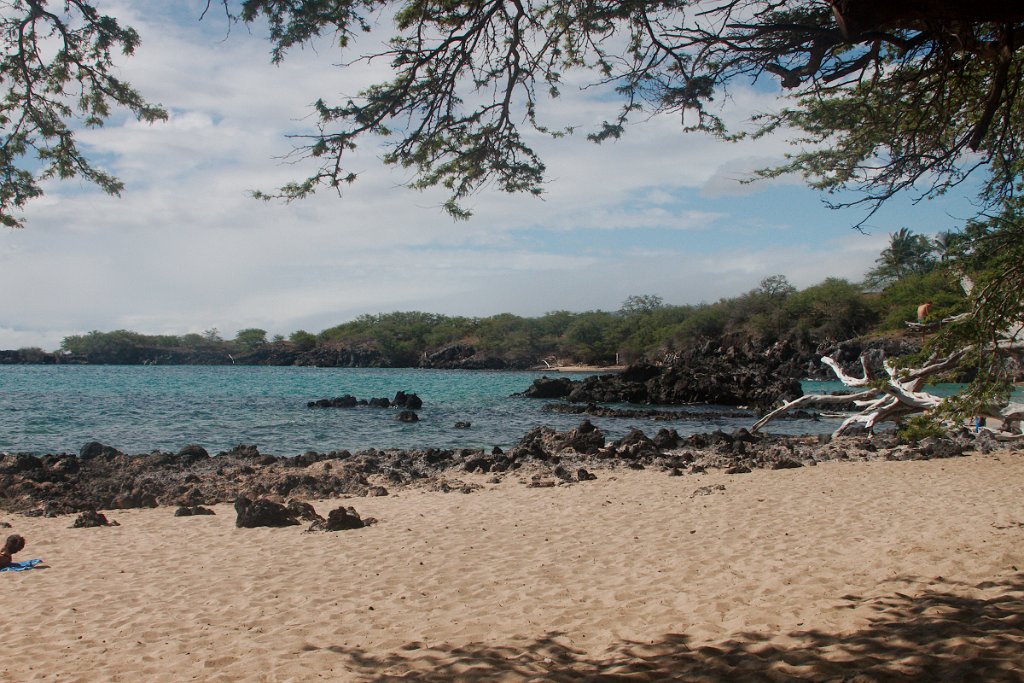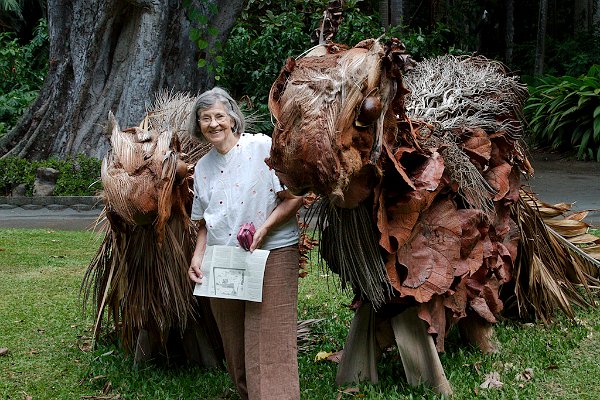 Foster Botanical Garden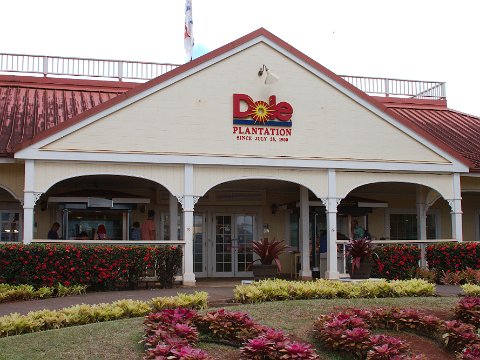 Dole Pinaple Plantantion Visiters Center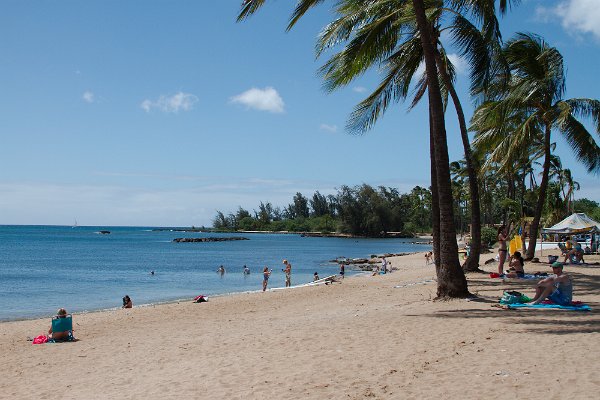 North Shore Beach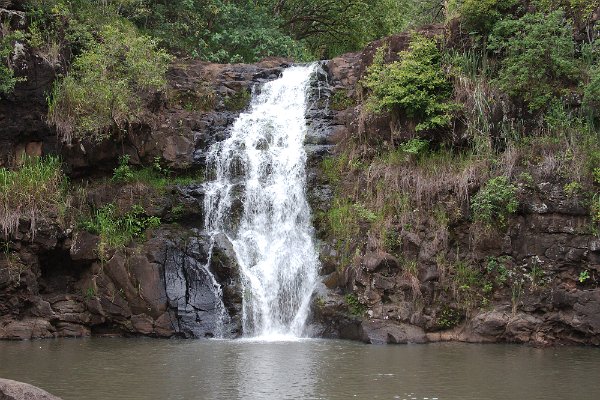 Waimea Falls Park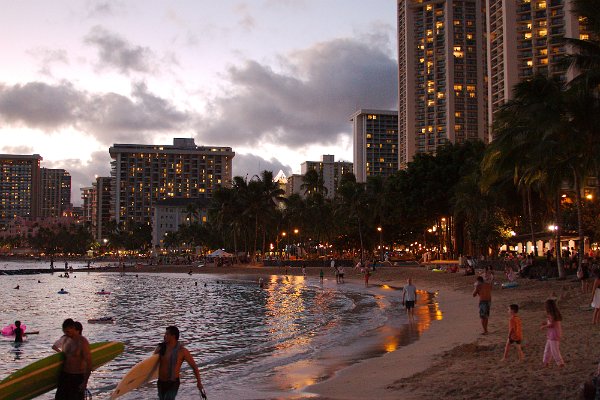 Sunset on Waikiki Beach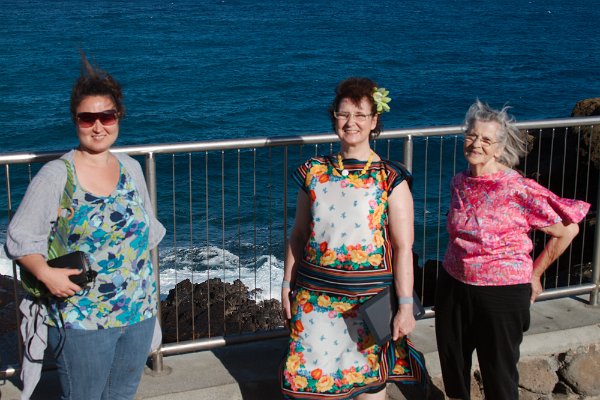 East Shore of Oahu Hawaii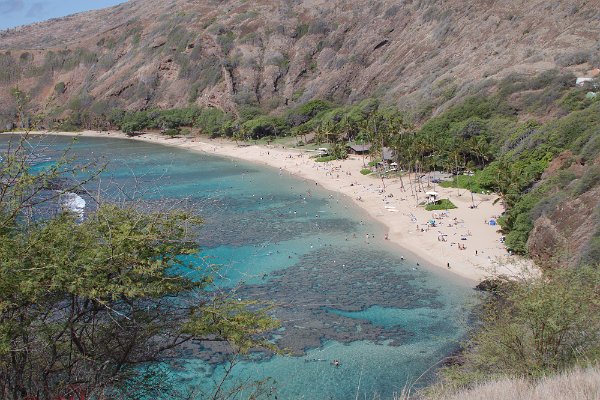 Hanauma Bay Oahu Hawaii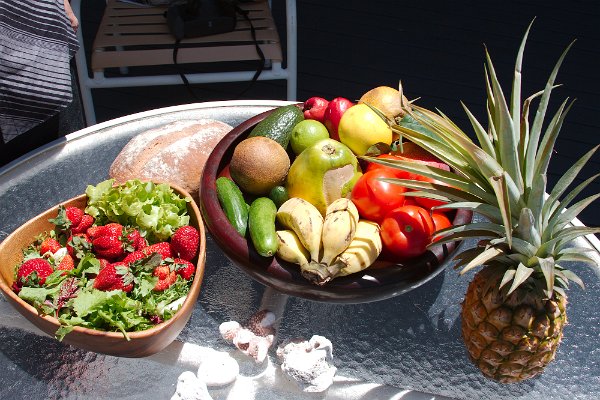 The House we stayed in on the Big Island in the town of Waimea.
---
On a recent trip to Florida for a convention for Sandra and a memorial service for her brother.
Click here for the photo gallery of this trip.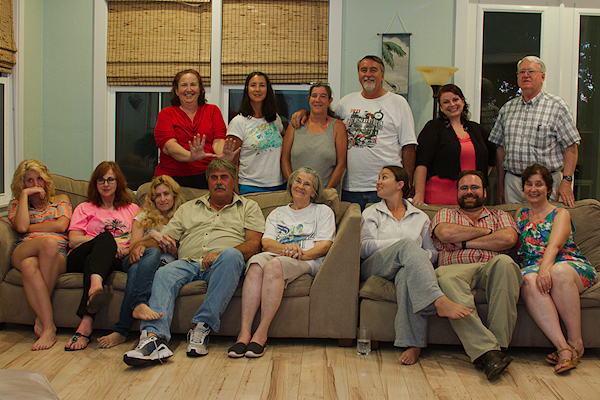 Picture of many of the Pruitt clan who attended the Memorial.
---
Old Pictures of Pruitt family.
---
Philippines Mission Trip - Bayanihan 2011
This trip was a last minute arrangement by the Lord. We had not planned on going but one of the team members had major surgery and they needed someone with passports to fill for him and his wife. We have passports and we have experience traveling internationally. Also, this is the first year in memory that Sandra did not have classes and finals at this time of year. So everything fell into place so that we were able to get tickets with the group (except last leg home from Chicago) and packed in 3 days. The trip was a great blessing to us and we have fallen in love with the Philippine people and would like to share the photos that we took during the trip. Click to go to the gallery

This sign is symbolic of how we were received by the Philippine people.


---
"Grand_Canyon_Arizona_2010"
Grand Canyon Arizona Trip 2010
This trip was take after a visit to Utah. Diana and Granny flew out and met us in Utah and we then drove down to the Grand Canyon. We then visited Missy in Arizona. These pictures are in a slide show format with Ken Burns effects automatically applied. Enjoy.
Crand Canyon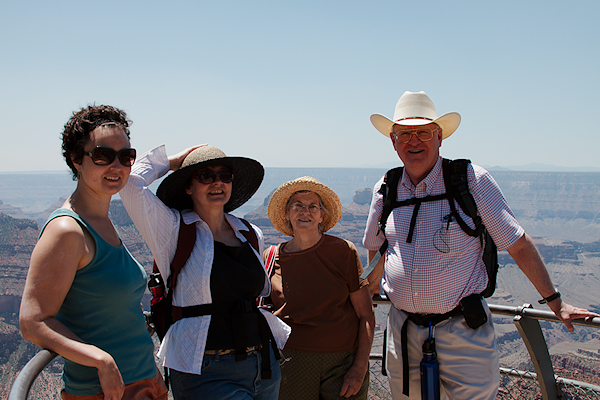 Utah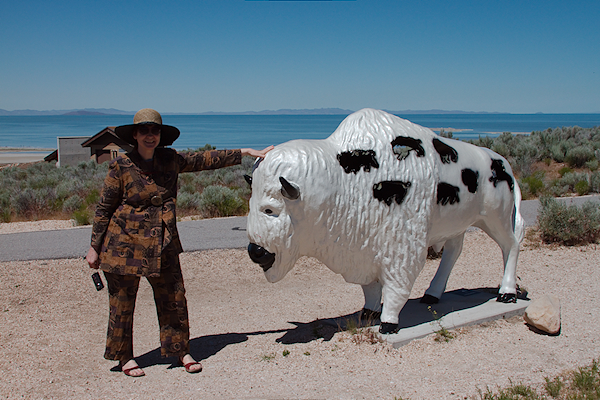 ---
Trip to California, Montana, and Yellowstone National Park 2009
Our trip this year was broken up into several stages. We first flew to California and stayed with Diana for day or so. Then we flew from there to Bozeman, Montana for Sandra's CUR conference. While she did the conference I explored the area and we were able to go on a River Boat trip on the Yellowstone River. We also went up to Virginia City, Montana and looked around there. The trip up and back was very scenic. We then made a day trip to Yellowstone National Park and did the Western circle drive. We were able to see Old Faithful do its stuff. We then flew back to California to visit with Diana some more and attend the Nationa Square Dance Convention in Long Beach. We had a great time dancing but did not take too many pictures. We also did a little site seeing in Long Beach at the Aquarium and a ride on the shale, dolphin, sea lion boat trip out into the Pacific. We did not see any whales :( but did see some dolphins :) and a lot of Sea Lions. We also saw a lot of birds. Diana also took us on some tours of a museum and beach areas. The photos have been added to the Photo Gallery..

Old Faithul at Full Steam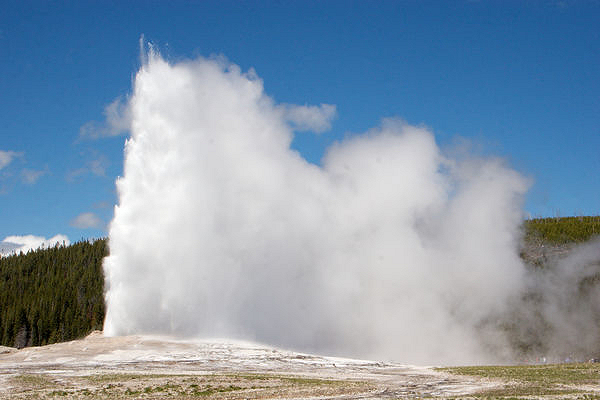 ---
Trip to Britain 2008
We had a great time visiting London and Scotland this year. We did have our adventures that were unplanned but then that is what makes a trip more interesting, at least afterward. Ron took a lot of photos and it has been hard to cull them down to a reasonable number to put here. Organization was also a problem. So, they are in a Photo Gallery. orgaized by Day.

Glasgow City Hall Dome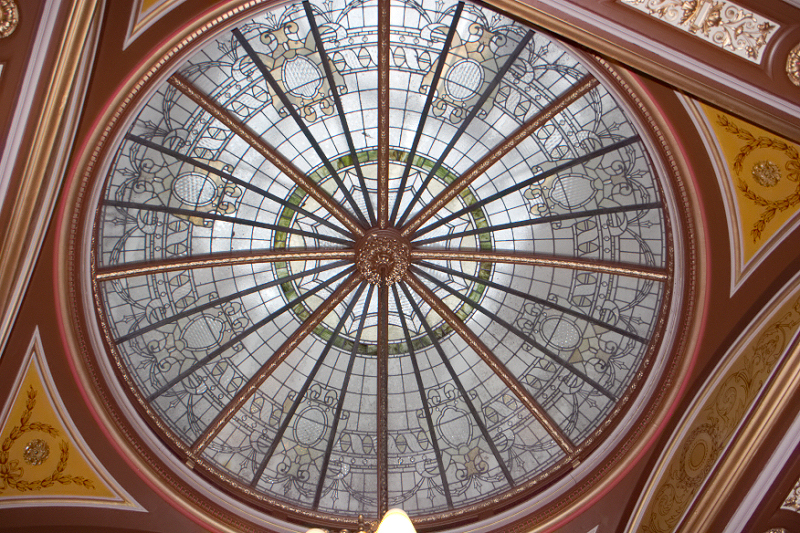 ---
Sandra's Family Get Together
It seems that the only time we get together is for either weddings or funerals. Sandra's Grandma Seidel died in January at the age of 97 years. Any funeral has its sad side. We miss the person here on earth. The other side is that we celebrate her life and we do that partly by enjoying seeing people we may not have seen for a long time. Many of the family were able to get together for the first time in a long time, so pictures were in order. The picture below is of most of the Sandra's mom's (Granny) family that were there for the funeral. Click on it to see a short slide show of those who were present. The last few are of Granny with some of her friends from when she grew up and she has maintained a relationship with them over the years.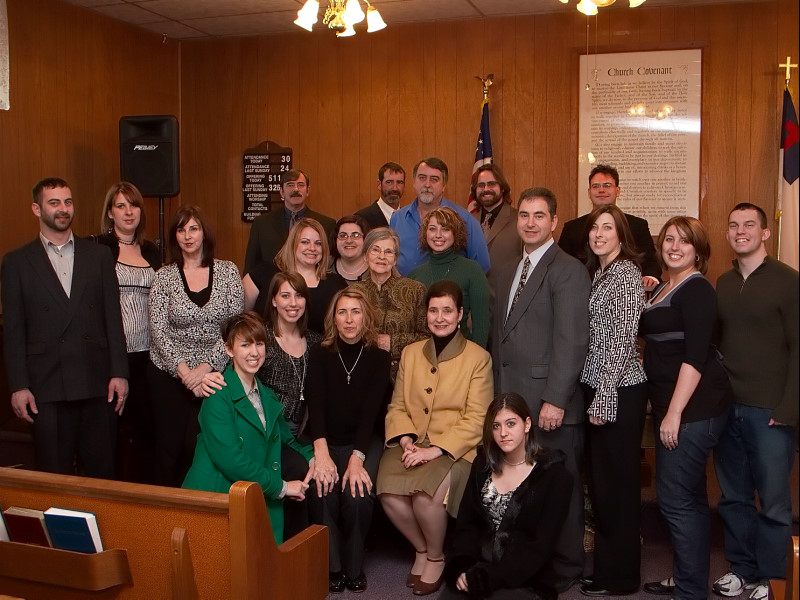 ---
Thanksgiving 2007
We had a Thanksgiving celebration at our house this year with other Families who do not have local extended families. Many of them are from other countries. They either work at Westmister or a member of their family, or go to Church with us at First Baptist. Click on the picture below to see the full slide show.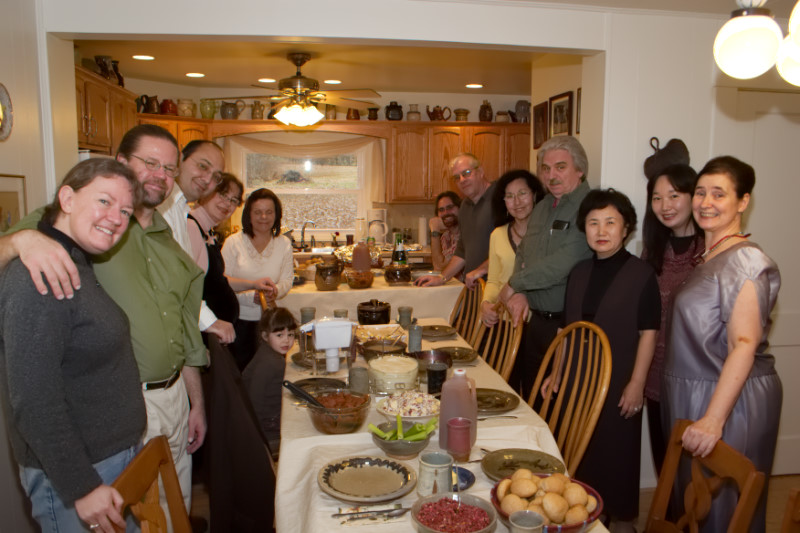 ---
Diana's New Business
Diana has been making necklaces for a while now for fun and creative outlet. She has made so many she decided she needed to sell some. So, with the help of friends and family, she started her own on-line store called Balanced Beads. She is selling her own original designed and produced necklaces, bracelets, and earrings. So, give it a look, she is having a Grand Opening Sale now (9/15/2007) with 305 off the regular price. The sale is for a limited time.
---
Chihuly at the Phipps Conservatory visit
We visited the Chihuly exibit at the Phipps Conservatory in August. It was a great time. We spent 4 hours there. I took a lot of pictures like the one below. Click on the picture and you will be taken to a more pictures of our trip. We really enjoyed the glass but the orchids were almost more fantastic.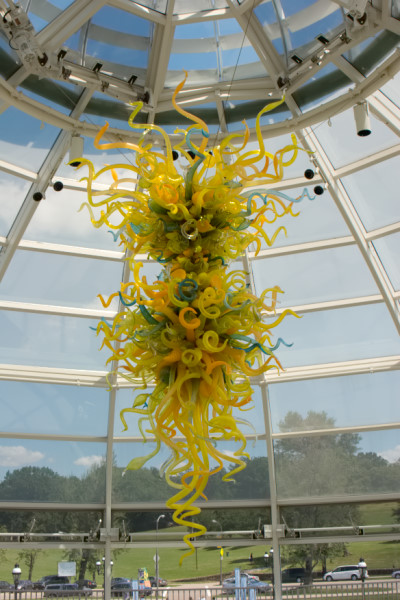 ---
Kitchen Renovation
Three reasons we renovated our kitchen:
Our kitchen cabinets were falling apart and unfixable
we did not have much counter space to work on
people were triping over the small step into the dining room and we were afraid someone might get hurt.
So we did some investigating and we liked the ideas of New Castle Kitchen and Bath's Designer, Gary Rubis. The end results are shown in a slide show of the kitchen a taken few hours after the workman finished and walked out the door. Click on Picture below to see the slide show.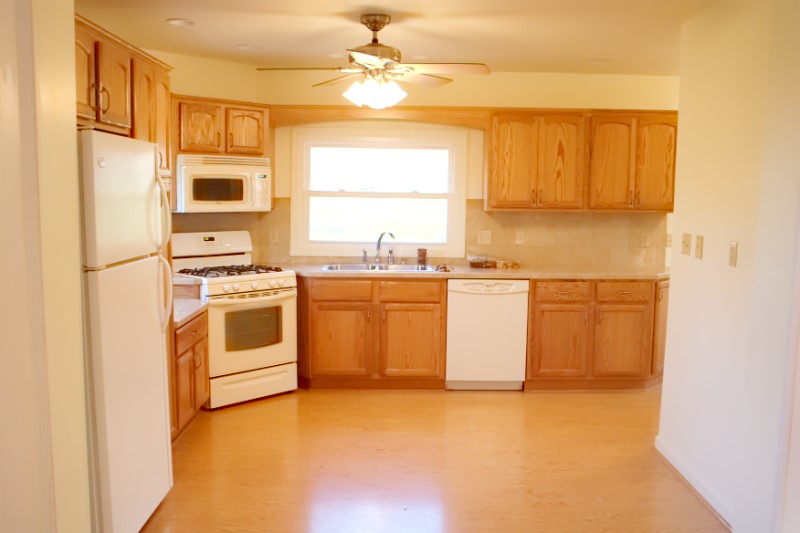 We took out the wall between the kitchen and dining room and leveled the floors and put the same flooring through out both the kitchen and dining room as you can see from the picture in the slide show. We had the small wall between the mud room and kitchen removed. This allowed more counter space and storage. We moved the stove to the corner which took it out of the path into the house from the back door so there would be less chance of somebody knocking a hot pan off the stove by accident. This also allowed us to have room for a dish washer next to the sink. We put a counter and the refrigerater with storage around it along the north wall. Before the refrigerater was just inside the back door and if you opened it you were in the way of someone coming through the back door. It made bringing groceries into the house while someone else tried to put them up very interesting! We replaced the kitchen table with a island with storage under it. The Island is on wheels so we can move it out of the way to bring large furniture into and out of the house. It is not in the first picture becuase I was shooting the photo from it.
---
Mackinac Island Trip 2006
Diana was attending a professional institute at the University of Michigan in Ann Arbor this summer so we decided to get together while she was so close (5 hours away as opposed to a plane flight). She was able to extend her stay by about 5 days. Since this was half of our vacation time to visit Illinois, we decided to see if Granny could come with us. She was able to get away so she flew out to Pennsylvania and went with us to see Diana. We decided to go to Mackinac Island because Granny had heard it was a great place. So we made arrangements and went. The Island trip was a lot of fun and it is a really beautiful place. I am putting some of the pictures I took while there here. I may add more later but this will have to do for now. The picture below is of Granny and Sandra in the surrey with fringe on top, that Granny rented to take us for a drive around the Island. The horses name is Bell. She was slow and liked to stop and chew the grass. Granny had to keep after her to get her to stay in the right lane. Once when Sandra tried to take over driving, Bell stoped and looked back at us like she was saying that is not allowed in the rules. We could hardly stop laughing. Diana was able to take over at the half way point and we got back in just over 2 hours on a 1.5 to 2 hour trip. They did not charge us for the full two hours because they knew Bell was slow. It was a lot of fun. In one other adventure Granny was renamed Hanna-Lu. Ask her about it when you see or talk to her. Click on the picture below for more pictures from our trip.
---
Trip to Charleston, WV 2006
We went to Charleston, West Virginia for a Square Dance Weekend, Summer Fantasy 2006. We did a square dance workshop and a part of a round dance workshops and the Saturday and Sunday Evening Dances. We, also, visited the Vandalia Gathering on Saturday and Sunday afternoons. It is held at the State Capital. The first picture is of the capitals gold dome. We went to church at Cross Lanes Baptist Church. Memorial Day we headed back but did some sight seeing along the way. First Stop was Kanawha Falls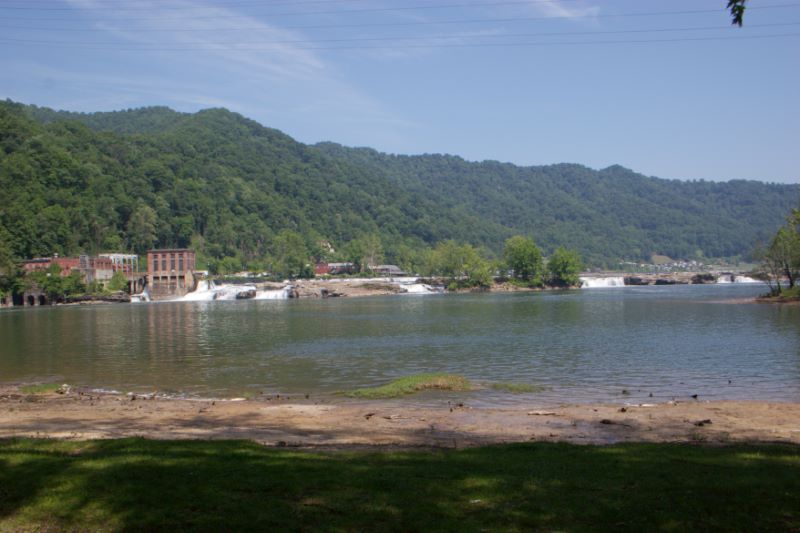 which is just outside Glenn Ferris. It has a beautiful public picnic with a great view of the falls. The Falls mark the joining of New River and the Gauley River to Form the Kanawha River which flows through Charleston. We also visited the Cathedral Falls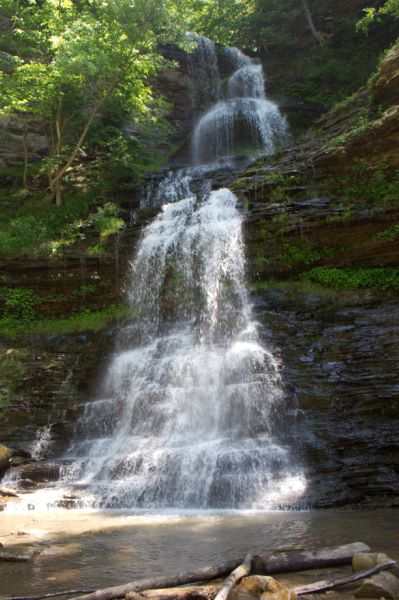 which is just past Glenn Ferris on 60. We visited Glen Ferris Inn for lunch and it was great.

Click Pictures below for pictures from trip.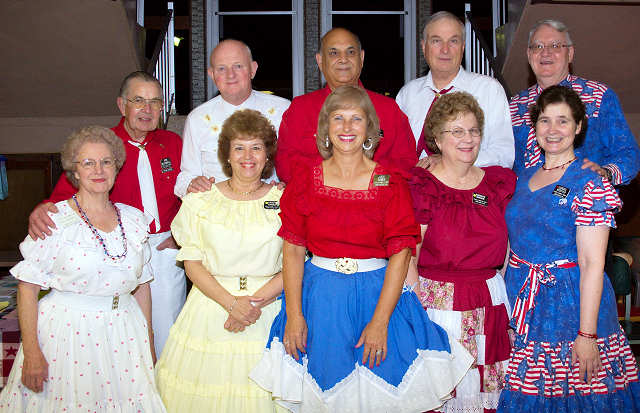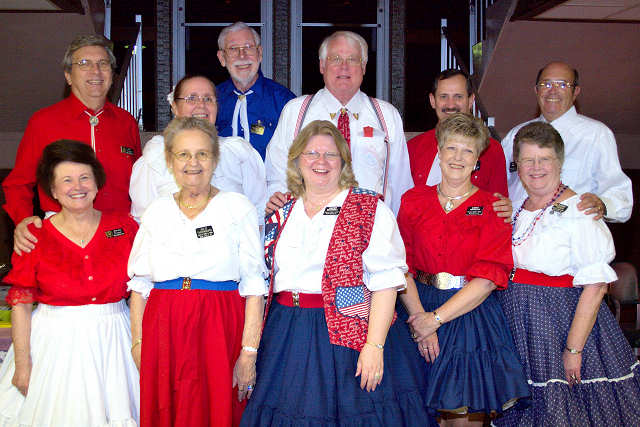 ---
Christmas 2005
Here are photos from this years Christmas trip to Illinois. We saw many of our family members. Below is a Portrait of our family - Diana, Phillip, Sandra and Ron - taken during the trip. Click on the Portrait to go to a Gallery of Pictures from this trip.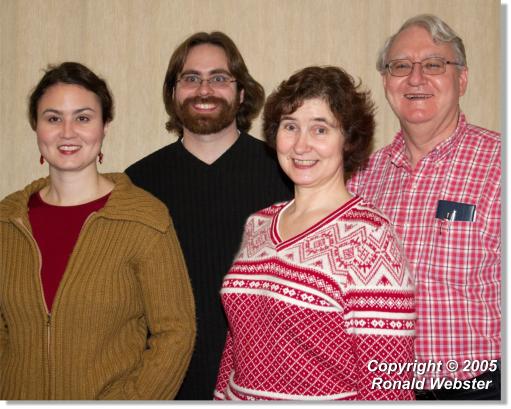 ---
Sandra and I went with a group of 36 Paws & Taws to a weekend Square Dance retreat at Atwood Lake Resort in Ohio. We dance two nights and went to a workshop one day and a short farewell dance the final day.
Here are a couple of pictures of us dancing and sitting with the couple that we road with to the retreat. Sandra made the dress she is wearing especially for this trip.
We did take off Saturday afternoon to see at least one local point of interest. The "Warther Carvings" in Dover, Ohio. See the description of the large picture for more details about what is there.
Click on the pictures below to see an enlarged picture.

Ron and Sandra dancing together
during the Saturday night dance.

Becky and John with Sandra and Ron
on Saturday night waiting for the next tip.

Picture of The Commodore Vanderbilt
one of the trains Mr. Warther carved.
Also, a knife and tools can be seen in the background.
---
Sandra and I were in charge of the decorating for the Paws and Taws Halloween Dance. Sandra was really the one who designed the stage. We had a lot of help from other members of the Paws and Taws. It made it a lot of fun to work together doing the decorations.
Here are some pictures from the Dance. (Click small images to see larger ones.)

Sandra and Ron in queen and king costumes.

Stage display of Square Dancing scarecrows with male partner doing a somersault.

Stage display of pumpkins spelling out Paws and Taws with caller in background.
---
Fall 2001


On your left is a view from our house of some of the Fall foliage here in Pennsylvania. It has been a very beautiful Autumn this year. This picture was taken on October 15, 2001. On your right is a picture of Phillip and Sandra before he leaves to pickup his date for a Masquerade Party at Westminster College. This picture was taken November 3, 2001.
---
Pictures of some of Sandra's Students in Korea. Click small pictures to see larger ones.
---

Christmas Eve 2000
Pictures from our visit to one of Sandra's alumnus, Yura Han, whose husband is the Young Adult Pastor at a Korean Church. This was the Church's Christmas Eve service. They had very good singing by young and old alike. About half way through the service, as guests we were invited to sing for the congregation. We sang "We Wish You a Merry Christmas". Asking guests to sing a favorite song is a traditional Korean practice. We were not too surprised when we were asked but had not thought of something to sing so we had to think quickly and came up with a simple song we all knew and was appropriate for the situation.
Click on Pictures to see large pictures.

Visiting Sandra's alumnus Yura Han at her Church for Christmas eve service. Yura is next to Phillip in the picture.

We are being introduced to the congregation before we sing.

Singing "We Wish You a Merry Christmas" for the congregation. About half way through, the congregation joined us and sang along with us.
---
| | |
| --- | --- |
| Here I am with my wife, Sandra, while we were in Nigeria during 1989-90 | |
---
| | |
| --- | --- |
| | Here is my family at our Daughters graduation in May of 1997. Sandra, me, Diana, and Phillip. |
---
Phillip is a senior this year (1999-2000). We ordered his senior pictures and wanted to share them with you. Click on the small picture to see an enlargement. If you have a slow modem it may take a while to see the larger pictures.
---
Our son Phillip has been interested in Medieval times and Sandra likes to design and sow clothes. So she took the opportunity of one of her students having a Medieval wedding to make some Medieval clothes. Sandra, also, made ceramic goblets for the wedding party which they used for toasting.
Click on the picture to the left to see more pictures of the clothes she made and of the Medieval wedding.
Sandra also made about 13 costumes for our Churches Christmas production. You can see them by clicking here.
---
This year (1999-2000) we have been hosting Farid Aslanov from Azerbaijan. He is in his senior year at Neshannock High School. We have his senior pictures and wanted to share them with you.
---
| | |
| --- | --- |
| | Sandra likes to make pots and other things with clay. She made a thrown sculpture of her head and wanted to put it on the web so she scanned it in from different angles and then I made this animated gif file. |
---
Copyright © 1999- by Ronald G. Webster - All rights reserved.
Updated 11/23/01